Saponification
Written by Daniel Tidwell : January 23, 2008
So, I am a self-confessed word addict. I have relentlessly played www.freerice.com since the week it was launched (If you haven't heard about it yet, take a look. It's a clever vocabulary building site that generates advertiser money in order to buy local rice to feed people around the world. [I haven't quite worked out a position on the ethics of using these capitalistic ads to do something good, but we'll save that issue for later]). One of the words I came across that I did not know was "Saponification." Basically it means "to make into soap."
This got me thinking. Saponification. It sounds theological. If I encountered it in a theological book, I might believe it was a term I simply didn't know. Then I started thinking about how to use the term theologically.
My mind leapt immediately to Jesus. After all, if you're going to talk about Saponification, well, you might as well start with the center of the faith.
Yep, we've been making Jesus into soap for years. Many popular retailers are offering a distilled version of atonement in a convenient bar or liquid form. That's right, it's not just available at exclusive corner churches anymore. Now you can "wash your sins away" with convenience.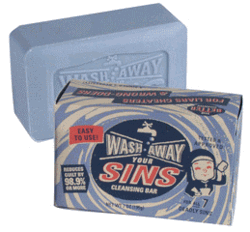 Sadly, it seems that every day I encounter more Christians who believe that this is the heart of the gospel. They think that Jesus came to pay the demanded ransom that God had placed on our heads because of our guilt. Because of this, they regard Jesus' life and teachings as merely prolegomena to the atonement, seeing the cross as the center of the gospel message.
But what if we affirm with the church throughout the ages, that Jesus is neither soap nor mere sacrifice? Could we see that perhaps God in Trinity decided to invite us into a new way of life—a life springing forth from the life of the Trinity—and that the way we are invited is through the life and love of Jesus?
How amazing to think that God's love is not limited by legal bounds! That's why Jesus says, long before his death and resurrection, "your sins are forgiven."
Jesus shows us a new way to live—a life that is not lived in fear of condemnation, but a life of liberty and grace that boldly walks toward servanthood and death, knowing that the kingdom of God is not a way that leads to worldly success.
God doesn't pay for our sins and then see us as if we were never sinners. Instead, God sees us as broken and sullied by sin, and willingly embraces us and invites us into community in order that we may be healed and do the same for others. If God needed payment for our sin, then God would not be forgiving us. Instead, God's love goes beyond what makes any human sense. God forgives us without any payment.
Imagine now what Jesus' command to love our neighbors and enemies must look like in light of God's love. This command of love is not to take our brand of soap and try to clean ourselves or others up and make anyone look presentable. No, it is a command to encounter humanity with a love that is well aware of the way that sin has corrupted all of us.
Imagine too what it might do to our justification of the death penalty if we stopped thinking that God demanded Jesus' blood be shed for us to be cleansed. If God forgives and reconciles on the basis of God's own character, then we, when transformed by the love of Christ could not look down the barrel of a gun or a legal punitive code at another human being and claim that good is wrought out of violence.
I'm tired of trying to scrub away the problems of the world by wielding Jesus like a bar of Irish Spring. God's love and invitation into community is so much more than that sad way of thinking. I throw myself into the open arms of Jesus in the hope that he will teach me to walk in this unfathomable kingdom of love.
for further reading . . .