Anarchism, Christianity, and the Prophetic Imagination 7
Written by Jason Barr : November 26, 2007
In the last post we looked at two major misconceptions about anarchism and anarchists. Now we will explore one of the most basic aspects of anarchism, the principle of shared and decentralized power and authority.
As I said before, anarchism is not the idea of politics without order, but rather the politics of a different order, meaning politics with decentralized authority, rather than a hierarchically-based authority. Anarchism has at its root the idea that centralized power structures should be criticized and even dismantled to allow for the development of more equitable and just structures where every voice is heard and those directly affected by decisions are the ones making them.
Most institutions are designed according to top-down models of authority – CEOs, presidents, legislative bodies, managers, school principals, and so on. Those on top make decisions that trickle down to the people on the bottom. But this is usually a one-way process. Although management sometimes responds to the desires of people on the bottom in an effort to pacify them, it rarely results in substantial changes.
As a result, the overwhelming majority of people, whether they are in a democracy or a dictatorship, don't make decisions about what laws are made, what rules they have to follow or what policies they'll put in place. A much smaller segment of the population retains the power to make these decisions and the rest of the people simply have to do it or face the consequences, even if they disagree or the rules don't make sense (example of the latter: the US tax code). So although we can vote for the president and senators, you don't vote on the kinds of policies you want them to implement. As such if you don't like the job he or she does after they have gotten into office, you can't really do anything about it until the term is over and you get to vote again - and even then you are forced to choose between the candidates the parties put before you, regardless of whether any of them represent what you think would be better or more just.
The hierarchical mode of organizing tends to produce a society that looks something like this: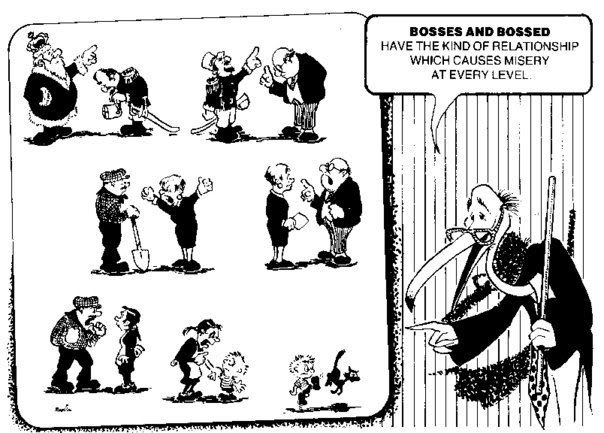 And while the methods of control in a so-called democracy will differ somewhat from those of a dictatorship the net result is still the same - people are unable to have any substantial control over the decisions that affect them in their day-to-day lives.
Anarchists reject "pyramid" models of organizing society and its institutions in favor of modes that are decentralized, where people share power more equally, and where no one person or group of people should have the ability to gain too much power over another. Decisions that affect groups of people are made by consensus, by agreement, and not by "I said so, you do it". The decision to change an aspect of society would begin with groups of people getting together to talk about whether a certain policy or course of action is a good idea. The impetus for the decision would come from the ground up, with those who are directly affected most involved in the decision-making process. The process might take longer as consensus-building tends to be a time-consuming activity, but everyone (regardless of class, sex, or other identifying factors) would have equal power in making the decision, and everyone's rights and responsibilities as a member of the community would be respected. Anarchists believe that basing decisions on consensus, and not coercion, would result in a more just and orderly society than hierarchical models. This is true both of communitarian and syndicalist forms of anarchism (which tend to be more labor- or economically-based) as well as primitivist forms (which tend to be based more on a tribal understanding or even on hunter-gatherer ideas).
This is a very brief overview of the principle of decentralization and how it is different from hierarchical modes of society. Next time we will begin to look at some of the implications of this principle, beginning with the concept of direct action.
for further reading . . .